Thank You!
On behalf of the 27 South Australians diagnosed with cancer every day, thank you. Your generous support is greatly appreciated.
Rogues Gallery
Part social ride, part training ride, a few members of the Lead Out Team stretched their legs up to the Bollards on Friday 11 January, only to find a promotional Ride for a reason poster staring back at them.
What do you do when you're confronted with a 2D representation of yourself? Let life imitate art and take a group photo, of course.
From left to right behind the poster we have Tony Siebert, Mike Krause, Russell Schrale, Lincoln Size and George Pantahos; all proudly wearing their 2018 Ride for a reason kit.
Well done, Gentlemen, and safe cycling.
United for a cancer free future
On Sunday 4 November 2018, a group of dedicated Ride for a reason fundraisers enjoyed a glorious Adelaide Spring morning and rode the Stirling - Bradbury Road loop, taking in the beauty of the Adelaide Hills and recording around 1,000 metres of climbing over a 55km course.
Under the stewardship of Pat Jonker and Cancer Council SA Ambassador Nettie Edmondson, the group not only mainatined fitness and trainig for the 2019 event, but also strengthened friendships with other linke-minded cyclists.
Ride for a reason is Cancer Council SA's flagship cycling event that each year coincides with the Santos Tour Down Under Challenge Event, and mobilises approximately 500 active fundraisers to help us achieve our vision of a cancer free future.
Through sponsoring a rider, you directly contribute to us achieving that vision.
I'm Riding for a Reason in January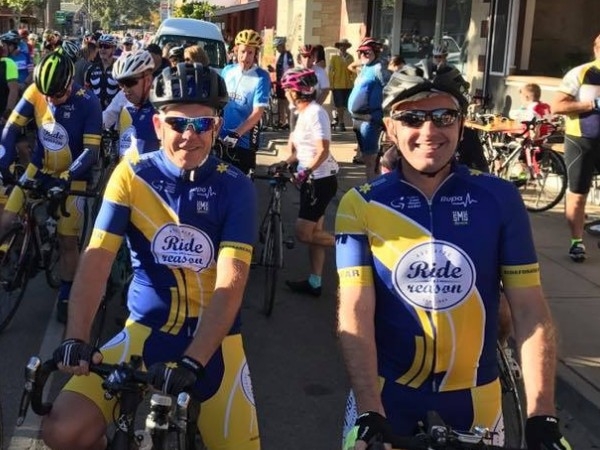 I'm challenging myself during the 2019 Santos Tour Down Under this January with the Ride for a reason team to fundraise and achieve our vision of a cancer free future.
The money raised through Ride for a reason enables Cancer Council to fund vital prevention, research, advocacy and support programs that save lives.
With one in two Australians diagnosed with cancer before the age of 85, the need to find better ways to detect and treat cancer is real.
Donate to support my ride and let's achieve a cancer free future together!